Better For You Protein Bar: Hormone Balancing Food Swap Of The Week
Did you know protein bars can contain as much or sometimes even MORE sugar than a candy bar?!  

Protein bars are the ultimate on-the-go "healthy" snack…the problem? Most of them are glorified candy bars, loaded with added sugar, preservatives and emulsifiers which cause digestive issues and mess with your hormones! Of course there's the benefit of protein for muscle growth and repair but it's often from an inflammatory source like soy and whey concentrates. And sure, whole foods are always best as a snack but it's important to have healthy, convenient options so that you can easily snag something for those hectic days! A sweet but nutrient-packed protein bar is also a great way to satisfy cravings for something dessert-like. 
Today we're focusing on reducing sugar, because not only can it be found in over 80% of all food products on the shelves, but it is highly inflammatory, especially when refined (i.e. processed) like the kind you'll find in almost all packaged foods including: salad dressings, tomato sauces, crackers, breakfast cereals and of course seemingly healthy, protein bars! It's also extremely addicting and can lead to insulin resistance (a huge driving force in the development of PCOS, diabetes and weight gain), skin disturbances, cortisol "stress" hormone imbalances, mood swings, sleeping problems and more. 
YHB'S LOW SUGAR PROTEIN BAR SWAP OUT!
This week we are swapping out the Zone Perfect Cookie Dough Protein Bar full of processed sugar, for the naturally sweetened Bulletproof Cookie Dough Protein Bar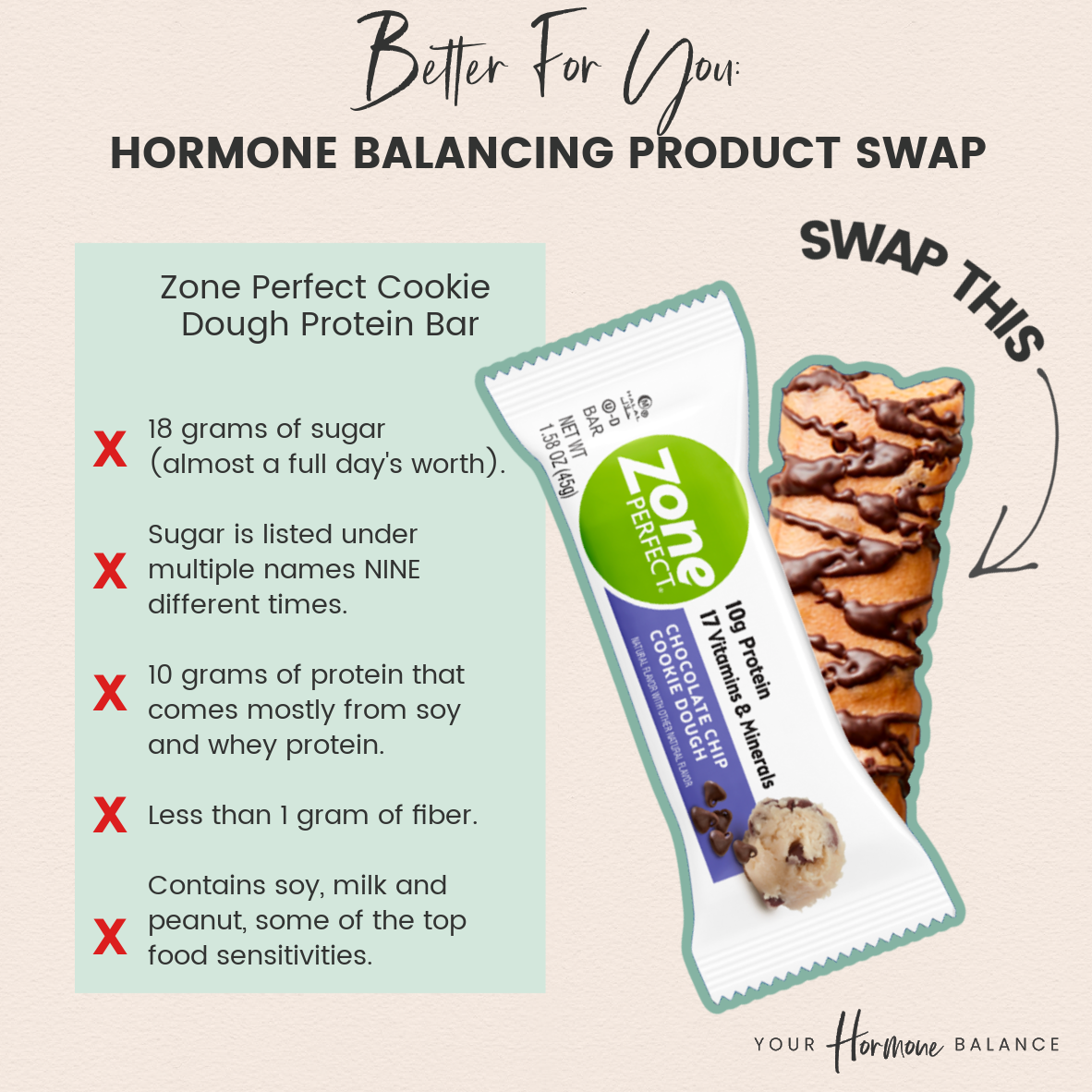 WHY ZONE BAR IS NO GOOD: 
The American Health Association recommends a max of 25 grams added sugar for women and 37 grams for men per day, yet this bar contains 18 grams of sugar (almost a full day's worth) even though it's marketed as healthy. Sugar is listed at the top of the ingredients list, under multiple names (Brown Rice Syrup, Corn Syrup, Sugar, Chocolate Liquor, brown sugar, fructose syrup, etc) and NINE different times!

10 grams of protein that comes mostly from soy and whey protein, both of which can be tough on the digestive tract and create more harm than good 

There is less than 1 gram of fiber 

The ingredients list contains soy, milk and peanut, some of the top food sensitivities that can also lead to hormone imbalances such as estrogen dominance.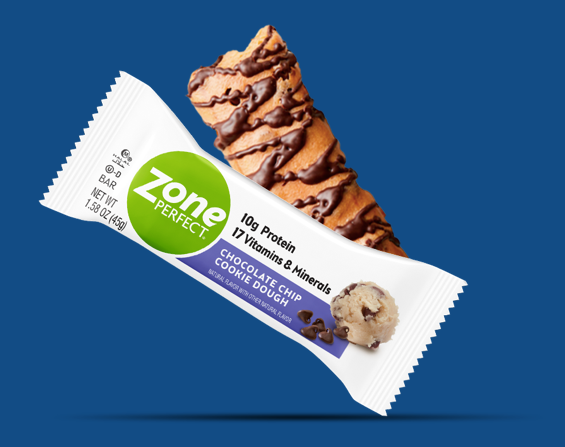 To give you an idea of how many ingredients in a Zone Bar, take a look:
ZONE BAR INGREDIENTS
INGREDIENTS: Brown Rice Syrup, Corn Syrup, Chocolate Drops (Sugar, Chocolate Liquor, Cocoa Butter, Soy Lecithin, Vanilla), Sodium Caseinate, Soy Protein Isolate, Sweet Cream Layer (Corn Syrup, Fructose, Palm Kernel Oil, Milk Protein Isolate, Natural Flavor, Salt, Soy Lecithin), Whey Protein Isolate, Brown Sugar, Pasteurized Whole Egg Powder, Fructose Syrup, Chocolate Flavored Coating (Sugar, Fractionated Palm Kernel Oil, Cocoa Powder [Processed with Alkali], Soy Lecithin, Nonfat Milk Powder, Vanilla), Glycerine. Less than 2% of the Following: High Oleic Safflower Oil and/or High Oleic Sunflower Oil, Butter Powder (Butter [Cream, Salt], Nonfat Milk, Tocopherols, Ascorbyl Palmitate), Calcium Phosphate, Peanut Butter, Natural Flavor, Chocolate Powder (Natural Cocoa Powder, Sugar, Chocolate Liquor, Cocoa Butter, Soy Lecithin, Vanilla), Salt, and Vitamin & Mineral Blend (Calcium Phosphate, Ascorbic Acid [Vit. C], Magnesium Oxide, dl-Alpha-Tocopheryl Acetate [Vit. E], Niacinamide [Vit. B3], Zinc Oxide, Calcium Pantothenate [Vit. B5], Ferrous Fumarate [Iron], Pyridoxine Hydrochloride [Vit. B6], Vitamin A Palmitate, Riboflavin [Vit. B2], Thiamine Mononitrate [Vit. B1], Folic Acid [Vit. B9], Chromium Chloride, Biotin [Vit. B7], Sodium Selenite, Sodium Molybdate, Cyanocobalamin [Vit. B12]).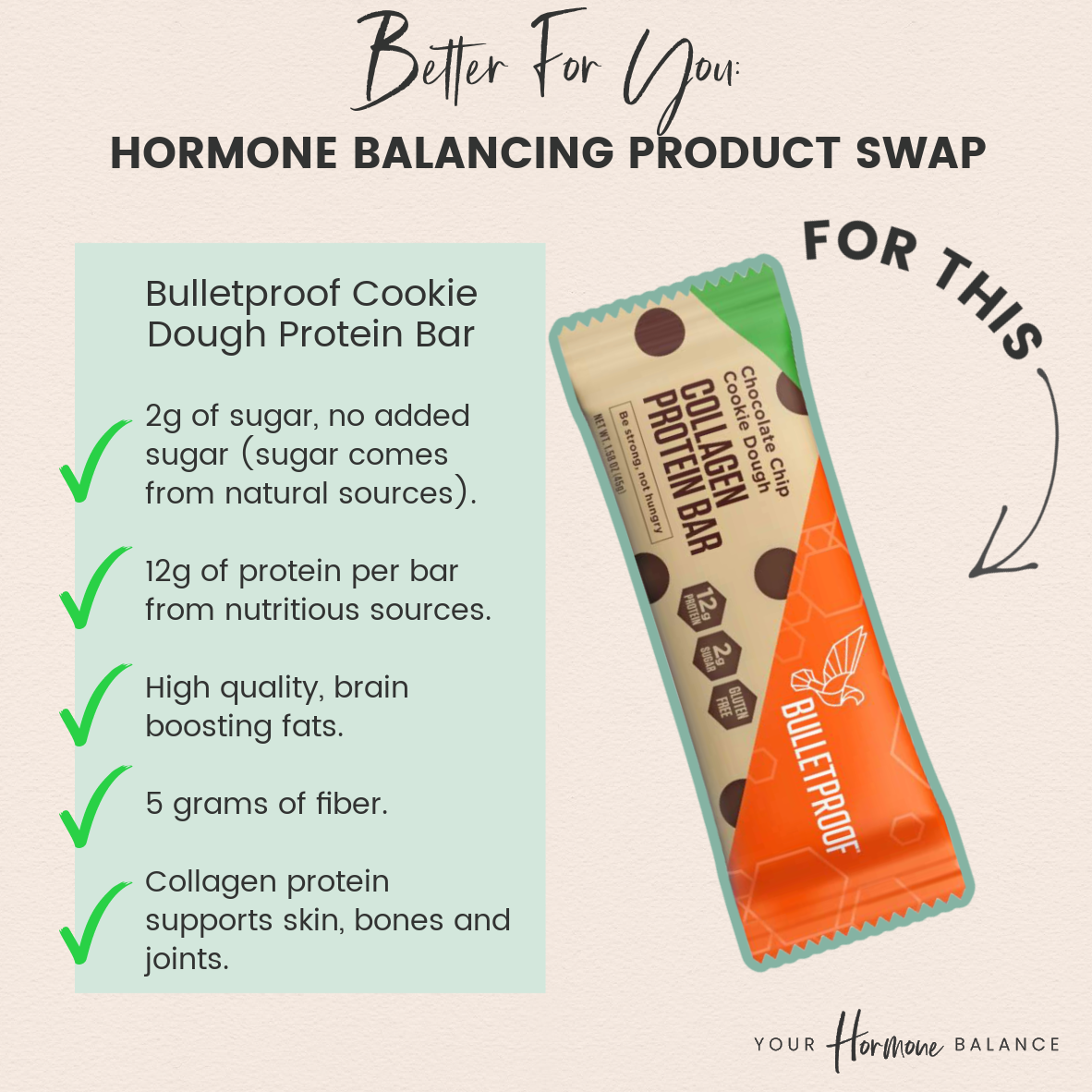 WHY BULLETPROOF IS A BETTER CHOICE: 
2g of sugar, no added sugar (sugar comes from natural sources- organic cashew butter and chicory root) 
12g of protein per bar from nutritious sources (grass-fed collagen, organic cashews)  

5 grams of fiber which will help keep you fuller for longer and keep digestion on track! 

High quality, brain boosting fats like organic cashew butter, brain octane oil, & organic coconut oil

Made with collagen protein, which supports skin, bones and joints

Tastes delicious and can be eaten as a bar or crumbled up on top of a smoothie or yogurt bowl as part of a full meal! 
PLUS: just look at the ingredients list for the bulletproof bar (far shorter than the Zone bar, and primarily comprised of ingredients we are familiar with and can pronounce!). 
Bulletproof Bar: INGREDIENTS: Organic cashew butter, hydrolyzed collagen, inulin (chicory), Bulletproof™ XCT®­ oil powder (caprylic and capric triglycerides, tapioca dextrin), organic unsweetened chocolate, Bulletproof™ Brain Octane­® oil (caprylic triglycerides), organic cashews, organic cacao nibs, organic coconut oil, sunflower lecithin, vanilla extract, sea salt, organic stevia leaf extract.
IN SHORT:
When looking for a healthy, hormone balancing bar (i.e. one that wont spike cortisol levels and increase insulin resistance) remember that healthy fats turn on fat burning and boost brain function but make sure to look for whole food sources like coconut, cacao, nuts & seeds. Steer clear of vegetable oils like safflower, sunflower and canola, aka cheap, processed and inflammatory oils!
Look for Ingredients you can pronounce!
Go for majority whole, real food ingredients & skip the ones with 30 ingredients and a bunch of gibberish, aka fillers, preservatives and emulsifiers that are tough on the gut! 
A few of our favorite clean protein bars in addition to Bulletproof: 
Vital Proteins Variety Pack Collagen Bars 
Check back next week for our next product swap out!  
---
Have an idea for a product you'd like featured or swapped out?

Email us at info@yourhormonebalance.com
Interested in testing your hormone levels and getting started on an all-natural rebalancing plan? Check out our at-home hormone testing + consulting packages  HERE.