Elements of a Hormone Balancing Meal: Sweet Potato Toasts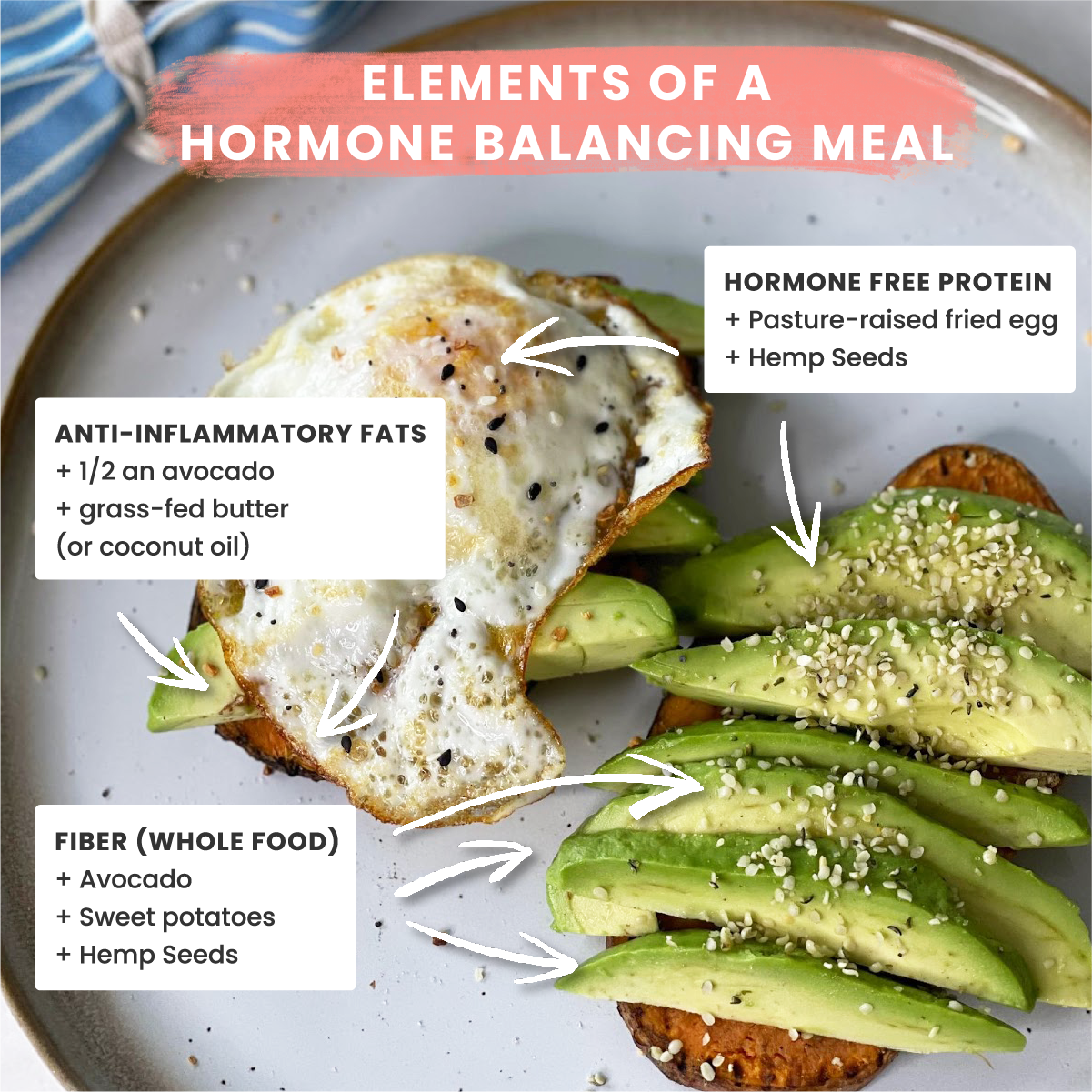 This "sweet potato" spin on a traditional avocado toast by our health coach @bodyblissbyjess is a fun way to switch things up while keeping blood sugars balanced and your brain sharp and focused for a busy day! It's also completely customizable so you can add what you love (this would also be delicious with the addition of smoked salmon or some organic turkey slices)!
Some of the key hormone-balancing ingredients include 👇⁠
Your base is sweet potato "toast" which Jess got pre-sliced from @caulipower (a hack when you're on the go) but can be easily sliced on your own from scratch! Simply bake in the oven or air fryer until the consistency you like! Sweet potatoes are a fab source of fiber with about 4 grams per cup which helps to slow the absorption of the carbohydrates, making it a great swap to simple carbs like white bread! ⁠
@vitalfarms fried eggs: pasture-raised so the hens are happier, getting at least 108 sq. ft. to roam in pastures, foraging on their own while in the fresh air and sunshine. One pasture-raised egg has been shown to contain twice as much omega-3 fat, three times more vitamin D, four times more vitamin E, and seven times more beta-carotene than eggs from hens raised on traditional feed. Add this to the 6 grams of energy-boosting, ovulation promoting protein & you have a true superfood! Source: certifiedhumane.org⁠
Avocado is a MUST when it comes to this brunch staple & packs a punch of creaminess and flavor + essential omega 3's and almost 8 grams of fiber in just 1/2. This combo keeps you full, satisfied and supports key hormones!⁠
Hemp seeds are sprinkled on top and are a lesser-known yet amazing source of plant-based protein (and fiber), containing all 9 essential amino acids so they are great for someone on a vegan or vegetarian diet! ⁠
Grass-fed butter or coconut oil are both wonderful choices spread on top of the sweet potato and melted in the oven or pan! They add flavor + increase the nutrient profile! ⁠
---
Do you have an idea for a hormone balancing meal?
Email us at info@yourhormonebalance.com
Interested in testing your hormone levels and getting started on an all-natural rebalancing plan? Check out our at-home hormone testing + consulting packages HERE.