Hormone Balancing Star Ingredient: Zinc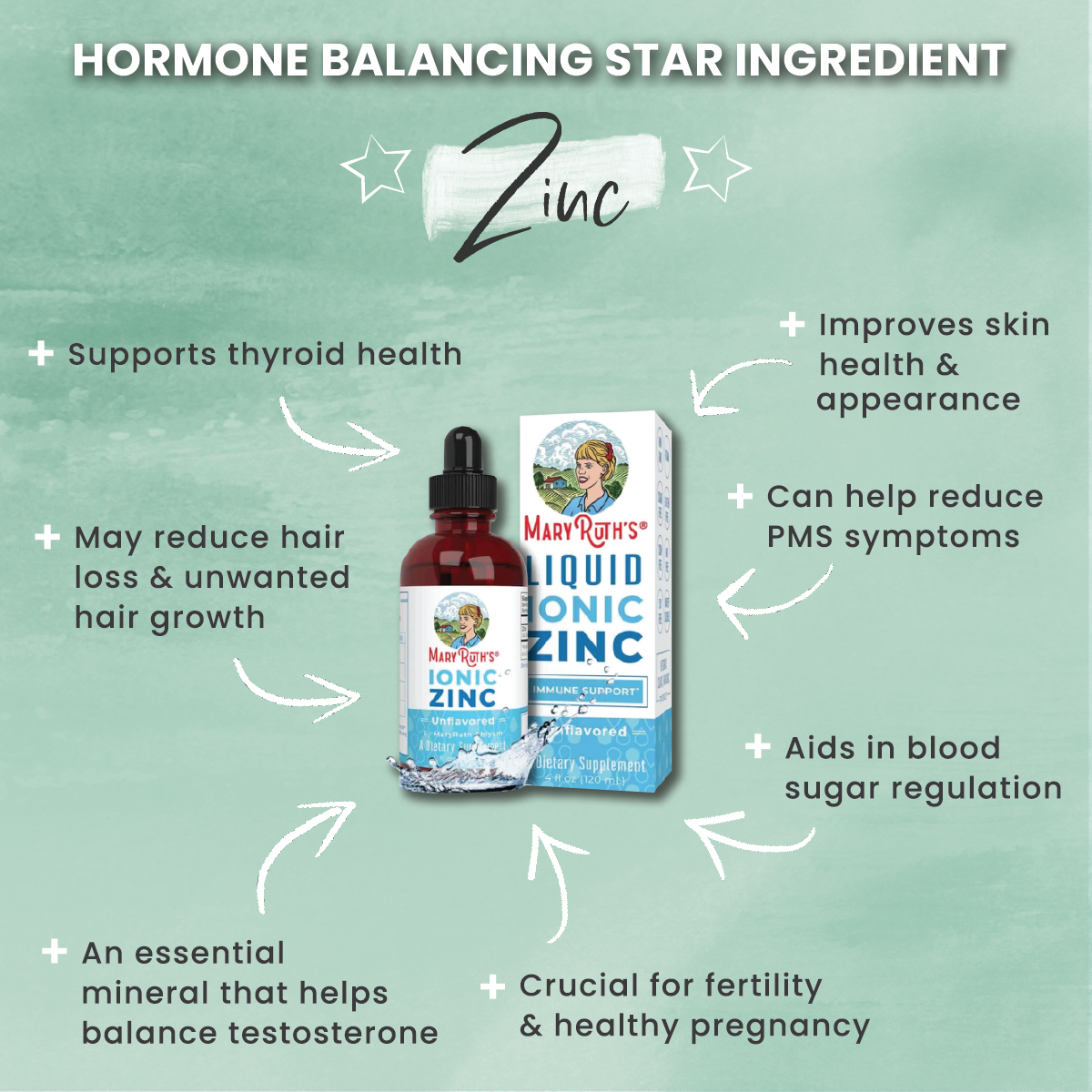 Zinc is an essential mineral that many women (especially those with PCOS) are deficient in, which is why supplementing can be extremely beneficial as part of your hormone rebalancing tool kit. It's also important to note that hormonal birth control can create zinc deficiency, and because an overwhelming number of women are put on the pill to "treat" their PCOS, this can play a strong role in the deficiency that follows. This is one of the reasons, we recommend safely transitioning off of the pill & using non-hormonal birth control options instead. (Check out our blog post "Planning to come off hormonal birth control? Tips for a smoother transition").
When it comes to treating PCOS naturally, zinc is a star ingredient because whether your testosterone levels are high or low (both possible with PCOS), it has a supportive, balancing effect! It can also help with the improvement/ reduction in MANY of the symptoms associated with PCOS as you can see in the graphic. 
We are big fans of the brand @maryruthorganics and their ionic zinc liquid supplement which you can simply take by mouth! We also recommend using real, whole foods to increase your intake intentionally. Some of the top sources & suggestions for adding them into your routine include: ⁠
✔️ Dark chocolate (over 70% cacao w/out added dairy or sugar) like @beautybarchocolate or @bodyblissbyjess Rose & Shine cacao latte blend (use code BALANCE10 for 10% off) ⁠
✔️ Seeds, especially pumpkin seeds (sprinkle on salads, toss in smoothies, or add to seed cycling protein balls!) ⁠
✔️ Oysters & other shellfish, grass-fed meat, organic eggs (we like @vitalfarms pasture-raised) - throw your proteins on top of bowls, salads & stir-frys ⁠
✔️ Legumes like chickpeas, lentils, and beans (cook into a stew, toss with salads or roast chickpeas as a satisfying snack with sea salt)
---
Want us to take a look at an ingredient for you and talk more about its hormone balancing qualities?
Email us at info@yourhormonebalance.com
Interested in testing your hormone levels and getting started on an all-natural rebalancing plan? Check out our at-home hormone testing + consulting packages HERE.