Latest episode of the WTF Podcast: The Science Behind Hormone Imbalance w/ Dr Zava, Founder of ZRT Laboratory
Have you had a chance to tune into our founder's podcast: WTF: Women Talking Frankly?
Click HERE to listen to the most recent episode, "A Conversation With Dr. Zava"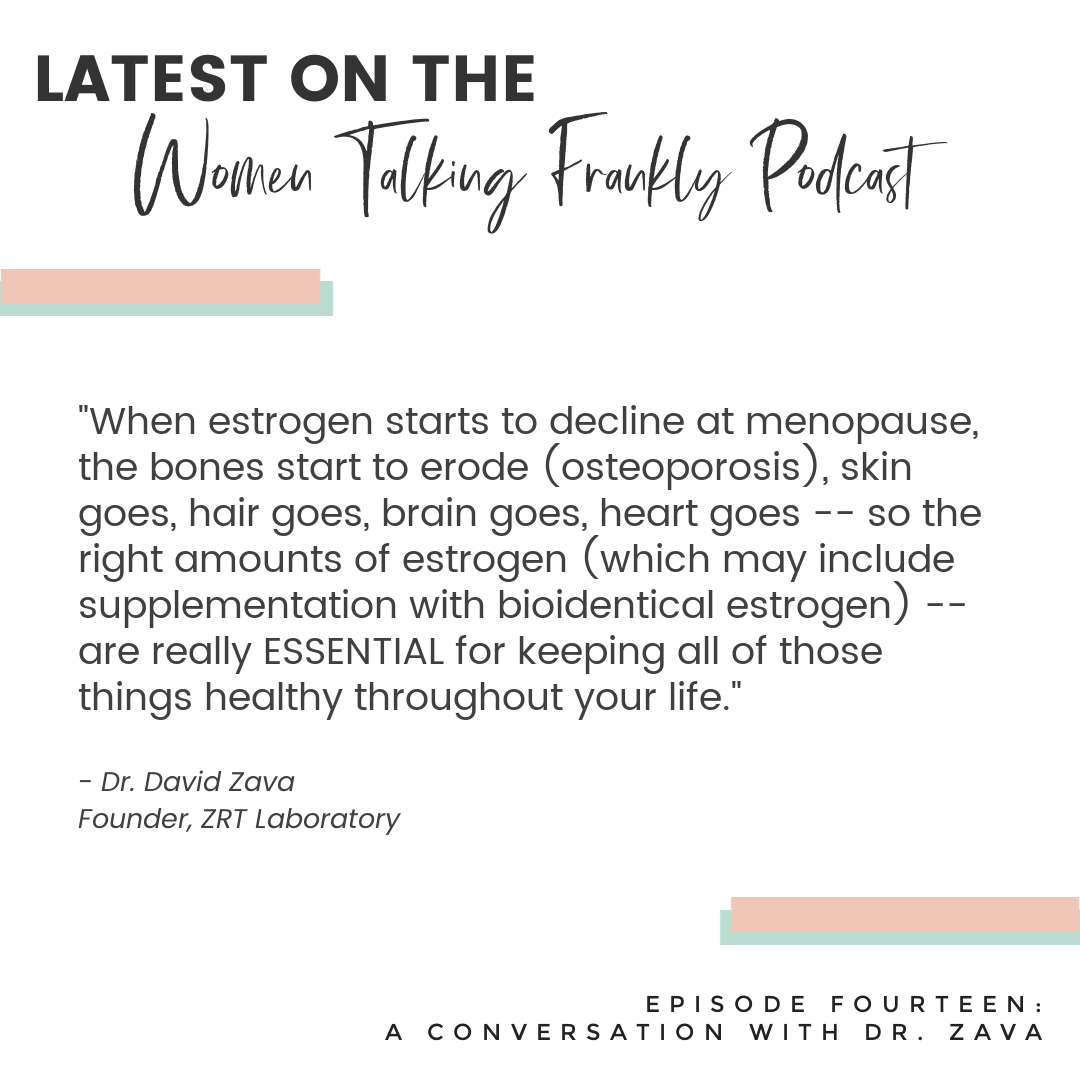 In our latest episode, Kyle and Candace get the chance to meet with Dr. Zava, an expert on hormones and hormone testing, as well as the founder of ZRT Laboratory: known as one of the foremost hormone testing labs in the United States and globally.
Together they explore the latest science and information that can help women prevent hormone imbalances, and Dr. Zava provides a deeper understanding of the role that hormones play in our overall wellness. 
Join this interview as they answer your questions about hormones including: 
Why both men and women need estrogen.
How testing hormone levels can identify specific imbalances.
How environmental chemical carcinogens impact our hormonal health.
Why saliva is the most accurate and stress-free way to test for hormone imbalance
Hot flashes, serotonin, individual differences in women.
Progesterone, the menstrual cycle, and ovulation.
The importance of knowing your symptoms of hormone imbalance.
***
MORE ABOUT THE "WOMEN TALKING FRANKLY PODCAST"
The W.T.F. podcast covers things you might be afraid or embarrassed to ask about. Candace and Kyle have dynamic let's-get-real discussions with experts about the heart, head, and health topics that matter most to women and lead lively conversations that address the essential issues women like YOU face throughout life's transitions. Candace and Kyle bring decades of experience specializing in hormones and women's healthcare to shed light on PMS, menopause, sex, aging, and more.
 Learn more about Candace, Kyle, and the WTF podcast HERE. 
---