NON TOXIC PRODUCT SWAP: LAUNDRY DETERGENT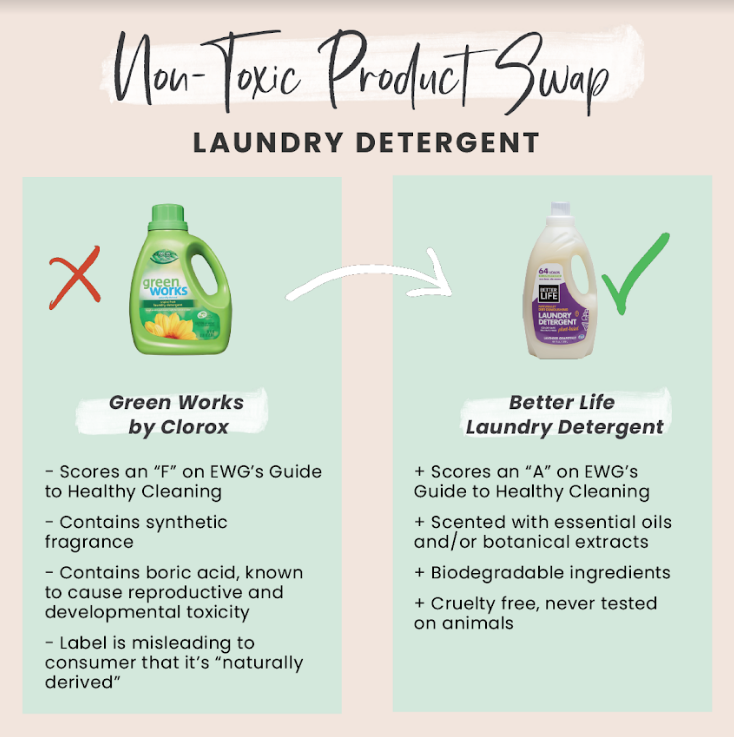 DON'T LET PRODUCT PACKAGING FOOL YOU!
Some companies label their products in a way that convinces people they are more environmentally friendly, healthy, natural, free of harmful chemicals and recyclable. These messages directly influence the consumers' expectations and choices.
Let's take Green Works laundry detergent by Clorox, for example.  They've already grabbed our attention with an eye-catching green bottle.  Green is the color of nature and suggests that the product contains healthy, natural ingredients and/or made using environmentally friendly practices.  Seeing a flower on the front label may lead you to believe that the scent of this laundry detergent must be "naturally derived"- but is it???
The best way to determine what's in the products you are buying is to get comfortable reading ingredient labels...and once you do it can even feel quite empowering!   
One of the apps we love to recommend to clients is EWG's Healthy Living app. It allows you to review the health and safety ratings for over 200,000 food, cosmetic and household products, giving you the tools you need to make healthier, more informed choices for you and your family with just one click!

WHY WE ARE SWAPPING OUT 
'GREEN WORKS LAUNDRY DETERGENT'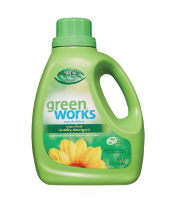 CONS:
Rated an "F"

in EWG's Healthy Living app.  This rating is EWG's

HIGHEST CONCERN

, meaning, this product has "

potentially significant hazards to health or the environment

."

Contains

synthetic fragrance

and

boric acid (AKA Borax)

.  Both can cause

irritation to the skin & eyes and disrupt hormones

.  Borax is commonly found in cleaning products and is even a star ingredient in most DIY cleaning recipes.  Here is an article from the

Environmental Working Group (EWG)

all about how to

Watch Out for Borax

.
WHY WE ARE REPLACING GREEN WORKS WITH BETTER LIFE.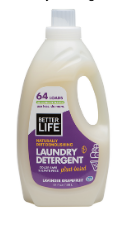 WHAT WE LOVE ABOUT 'BETTER LIFE LAUNDRY DETERGENT'
Scores an "A"

on EWG's Guide to Healthy Cleaning.  This is EWG's

LOWEST CONCERN

meaning few/no known or suspected hazards to health or the environment with good ingredient disclosure.

They use

plant-based

cleaning agents like soapbark and

naturally scented

ingredients like citrus.

Full disclosure

of ingredients on their labels and website - they aren't hiding ANYTHING!

Leaping Bunny Certified

- learn more about this awesome certification below!






Better Life was started by two dads one afternoon while watching their toddlers' play around the house as they were being exposed to dust, dirt and cleaning residue.  Their big idea - "What if cleaning products could cut through grease, grime, and dirt without compromising safety?"  And from that conversation, a new line of plant-based, environmentally friendly cleaners were created. And the best part? They are safe without being short on performance!  
Better Life products are full of natural, plant-powered cleaning agents like soap bark, corn, and coconut.  How do we know this for sure?  Well, Better Life is committed to full transparency by providing you with a full-list of ingredients for every product.  Better Life's Laundry detergent's cleaning agents and scents are plant-based.  Soapbark is an evergreen tree native to Chile and it is used as a natural cleaning agent in Better Life's cleaners.  Their citrusy scents come from real fruits like lemons, oranges and grapefruit, which gives cleaners that fresh, clean smell.
Below are harsh chemicals that Better Life will NEVER use in their products:
Sodium Lauryl sulfate

- irritant

Sodium laureth sulfates

- irritant

Petroleum solvent

- highly flammable, carcinogen

Parabens

- endocrine disruptor

Ethers

- irritant

Synthetic fragrances

- endocrine disruptor

Alcohol

- highly flammable, irritant

Ethoxylates

- carcinogen

Dyes

- allergic reactions, carcinogen


Another reason we love Better Life is because they are Leaping Bunny Certified!  What does this mean?  To obtain this certification companies must pledge to end animal testing at all stages of product development in addition to recommitting to the program annually and being open to third party audits.  If you see packaging that claims to be "cruelty free," make sure you see the leaping bunny certification so you can be confident that the company is committed to being cruelty free. 
Other safe and healthy laundry detergents swaps that we love and support are Branch Basics and Attitude Nature+ Laundry Detergent.
We hope we've given you some tools to help you make the healthiest and safest choices in products for you and your family!  Download the EWG's Healthy Living app now so you have it ready for your next shopping trip!
---
Interested in testing your hormone levels and getting started on an all-natural rebalancing plan? Check out our at-home hormone testing + consulting packages HERE.
Email us at info@yourhormonebalance.com with any questions!